Rollover car accidents are severe and sometimes may take lives. They can result in catastrophic car damage, permanent injuries, and even a loss of life. Rollover accidents have high stakes, so one must handle them the right way.
Knowing what to do in a rollover car accident scenario could save you a lot of stress, anxiety, and money, so read the following sections to learn what to do if you are involved in a critical car accident and how a rollover accident lawyer or a car accident lawyer can help you with this.
CAUSES OF ROLLOVER ACCIDENTS
While numerous things could result in a rollover accident, knowing some of the most common scenarios can help you avoid driving situations that can result in a rollover accident.
Losing Control. Losing control of the wheel can cause a vehicle to drive off of the road or hit an object which causes the car to roll.
Vehicle Collision. Whether it's two or five cars involved in a collision, these can lead to rollover car accidents for one or more vehicles.
Dangerous Driving Maneuvers. These can happen due to distracted driving or when a driver is under the influence of intoxicants.
Hitting Something. Another thing that may cause vehicles to roll is when they hit a roadside railing or another foreign object.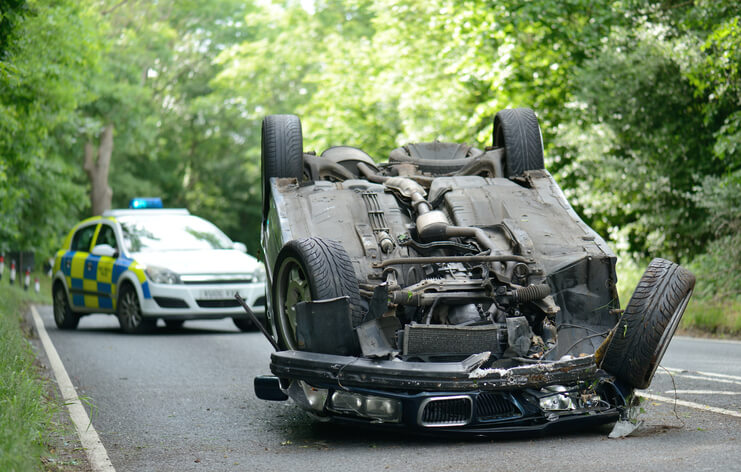 COMMON ROLLOVER CAR ACCIDENT INJURIES
A range of injuries can occur due to collisions, ranging from minor injuries to fatal rollover accidents.
Regardless of how minor or severe your injuries are, you should always seek out both medical and legal help following a rollover accident.
Some common injuries sustained in a rollover car accident include:
WAYS TO AVOID ROLLOVER ACCIDENTS
Here are driving safety measures that you can take to mitigate the likelihood of suffering a rollover accident.
Never drive while under the influence of drugs, alcohol, or prescription medication.
Avoid driving while sleepy.
Control your vehicle speed at all times.
Focus while driving and be aware of your surroundings.
Be very familiar with your vehicle and how sensitive it is to acceleration and brakes.
WHAT TO DO IF YOU ARE IN A CAR OR TRUCK ROLLOVER ACCIDENT
Here are seven things that you should do if you are involved in a rollover accident:
Remain calm. Once your vehicle has stopped moving, you must calm yourself and avoid panicking.
Determine whether you are injured. Do a quick assessment of yourself, pat down your limbs and face to determine whether or not you have suffered an injury during the accident.
Check the other passengers in the vehicle. If you're in a vehicle with others, do a quick check to make sure everyone else is okay. Ask each passenger how they're feeling and visually assess if they are injured (if possible).
Leave the vehicle. If you can, and the conditions of the vehicle are unsafe, leave the vehicle and place yourself in a safe place. Make sure that the other passengers are also able to exit the vehicle safely.
Call 911. If you have your phone handy and it works, call 911. If you cannot call 911, try to flag down a passing vehicle and have them make the call for you.
Get legal help. You should always seek out immediate legal help following an accident, regardless of whether you've been injured or not. Being involved in a collision can cause insurance rates to skyrocket and often bring extensive medical bills. Rather than place these things in the hands of chance, get legal counsel to protect yourself and your future.
Always consult your lawyer before speaking with anyone about the accident. It would help if you never gave statements about the accident you were involved in, post on social media, or speak with insurance companies without consulting your lawyer first.
CONTACT A BRAIN INJURY ATTORNEY TODAY
If you've recently been involved in a rollover car accident which resulted in a concussion or TBI, get in touch with a seasoned brain injury attorney today.
Here at Brain Injury Law of Seattle, our lead attorney, Scott Blair, has more than 25 years of experience working with victims of traumatic brain injuries. He believes in fighting for victims of TBIs and uses his legal expertise and skilled team to help those in need.
Regardless of where you're at on your legal journey, get in touch with Brain Injury Law of Seattle today to schedule a consultation at our firm and to get started on the road to healing and financial stability.
Related Articles